AceShowbiz –George Clooney has made himself get on the bad side of Meghan Markle's half-sister Samantha. The latter recently slammed the actor/director on Twitter after he defended his royal friend following criticism that she's been receiving since marrying Prince Harry.
During his panel discussion for his new Hulu show "Catch-22" in Pasadena, California, the actor compared what's happening to the Duchess of Sussex was starting to look similar to what happened to Princess Diana. Samantha, however, begged to differ. "Hey Looney Clooney! Your lawyear wife [Amal Clooney] should have taught you not to make statements without full facts #Clooney #Markle #piersmorgan," she tweeted.
She later added, "I doubt #GeorgeClooney would ghost his mother for no legitimate reason. Be quiet Georgie."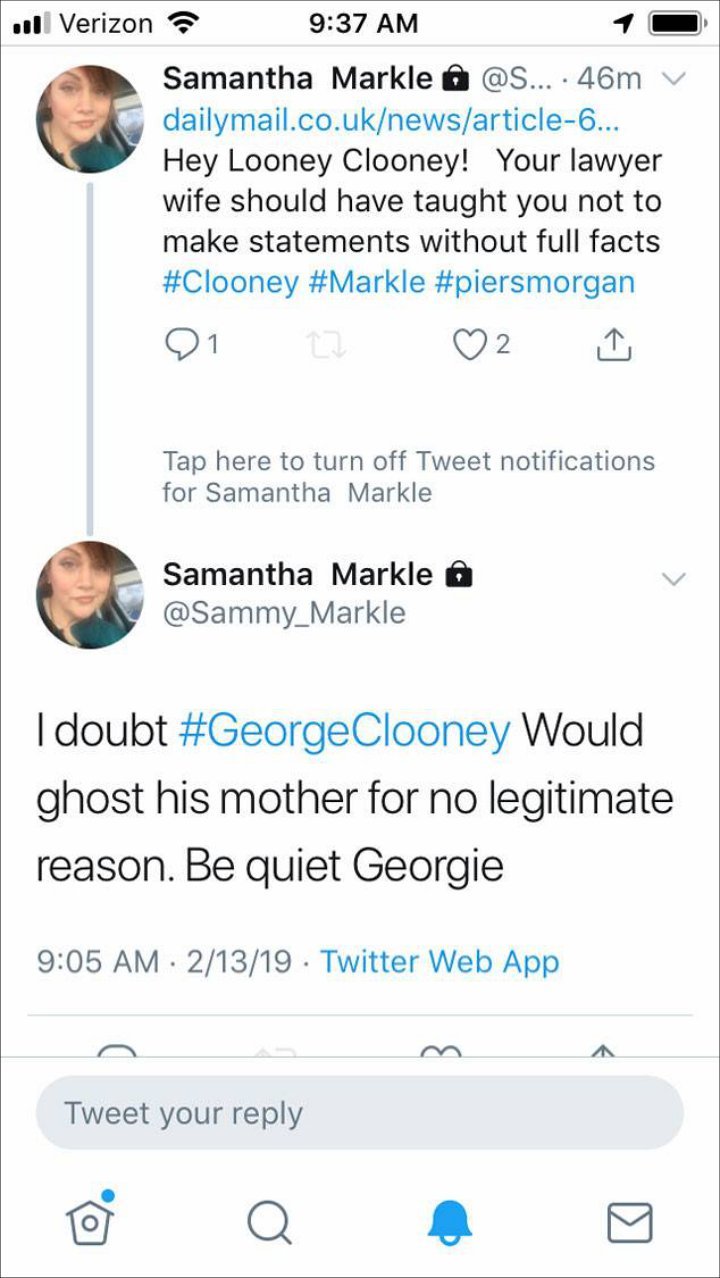 George previously slammed media for "chasing Meghan Markle everywhere," adding that "she's been pursued and vilified." The "Gravity" star continued saying, "She's a woman who is seven months pregnant and she is being pursued and vilified and chased in the same way that Diana was, and it's history repeating itself. And we've seen how that ends. I can't tell you how frustrating it is to see that."
He also criticized the press for publishing alleged handwritten letter from Meghan to her dad Thomas in which she told Thomas that her heart was broke "into million pieces" seeing her dad telling falsehoods to the media. Of that, George said, "You're taking a letter from a daughter to a father and broadcasting it everywhere. She's getting a raw deal there, it's irresponsible. I'm sort of surprised by that."
This arrived after Thomas published the letter. The retired lighting director said he initially intended to keep the note private "out of respect for Meghan," but later he decided to release the details after false reports surfaced about the specifics of the letter.
Source: Read Full Article